I bought my
Lumix FX38
recently from harvey norman and later found out that the compliment
4G SD card
contains pictures that are not belong to me..
after so
many supporters
... i went back to Harvey Norman for my consumer rights...
i went back to the guy that upgrade my SD card to 4G instead of 2G.
and our conversation is as follow: (actually is in cantonese)
me : May i know the 4G SD card you gave me that day is a new or old card?
HIM :
(looking bit puzzled)
ya is new, any problem?
me : you very sure is new?
HIM :
(avoiding my question)
anything mo?
me : ya, coz the card isn't new lo, contain pictures inside.
HIM : ar....
(he start sweating, i guess)
did you bring the card?
(then i show him the card, and he go behind the shelf and look for a new wan)
HIM :
(he throw the old card a side.. and murmuring himself)
that day not i collect for you, if it was me this wont happen.
i din't say anything just follow him to the counter and he pack it for me...
Something funny is that he din't even ask me what photos is inside and did not want to check it first... Is like he already suspect the answer and ''body got shit" (身有屎) , straight go pick a new card for me... and that day is he and a guy who install the card lo... still wan to push his responsibility to others. =.=''
i dint go to customer service to complaint ... as long as i got a new card ... hahahaa ... but i already lost confident on Harvey Norman. Future purchase from them will need to think twice before considering. and i wonder who will be the next to get that ''old card'' which he just throw it aside.
here i got the new 4G card sealed in proper packaging...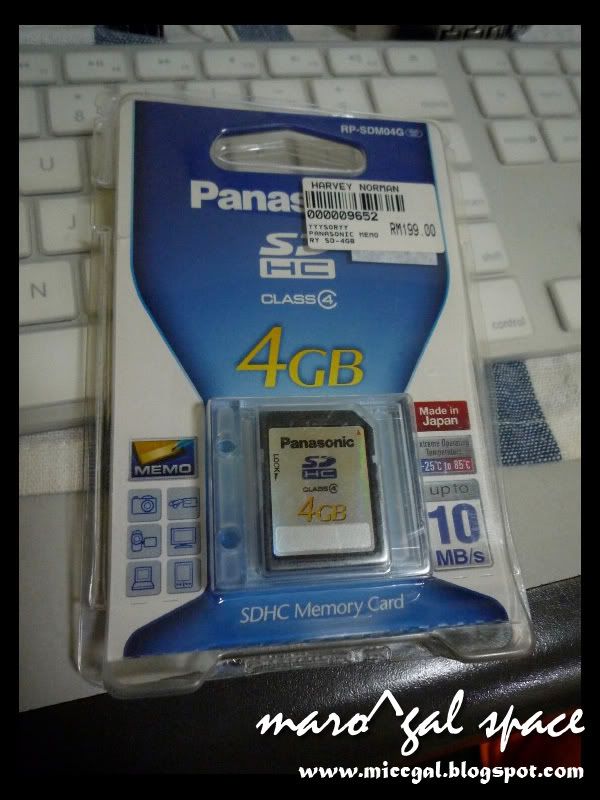 and is different from the ''old'' card i got previously
compared to the only thing i have that day... without a proper packaging.
thanks to everyone who gave me
opinions
for the card change.....
-n-