the big day for Jinelle & Nelson ~ 23rd May 2009
the day before the wedding, on friday night after we finish all the preparation, we had a discussion with some ''ji mui''s (sisters)... at McD.. hahaha they suggested many kinds of challenging things for the bridegroom and his ''heng dai'' (brothers).. luckily we got to buy the stuff eg. vinegar, eggs, lemons, paper underwears, bitter court, toothbrush, wasabi etc before the shop close.

then midnight me and iris went to Jing's place...
(as i blogged before earlier, Jing is a make up artist - [blog post])
 we had our manicure and girls talk for the whole night hahaa.. and we end up sleeping for 1 hour only...
the next morning we get up very early...  Jing arrange her friends to help us on the make up too heheheee...  our make up artist in the morning is Suk Woon... 

the other two behind are also make up artists... Cat and i forgotten the name oopz
the most beautiful bride of the day... Jinelle..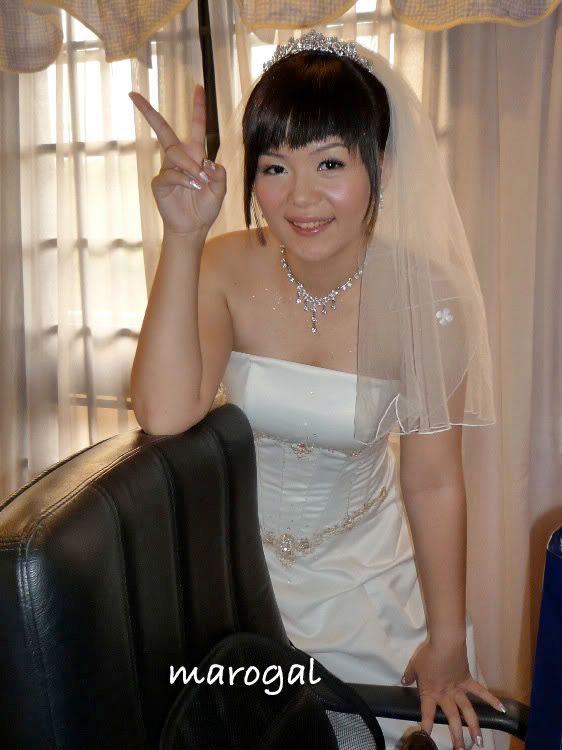 she has this HUGE doggie ....(its even bigger than her)... must take a pix of him la...hahhaa

we.... 
ooo.. then they had a briefing to other ji mui(s) for the 接新娘 (玩新郎) ceremony... 

aahemmm whats the photographer aiming eh???  hahaa
as i stayed in the room with Jing...   i dint have any pictures on hand.... so stolen some pictures from Jing's facebook... which uploaded by her friends... hope they don't mind
the bridegroom - Nelson 
the ''brothers'' have to go through a few stages... 
on of it is to wear the paper underwears and writing ''i luv jinelle'' behind..... then they have to roll through a cold and a hot cooked eggs from each side of the pants... heard that some eggs break in their pants... oopssy
the ''drink tea'' ceremony.... 
then we ahead to the bridegroom's house....  
we in the car behind... and is the only time i am free to take pictures... hahhaaa
our new manicure...
woww... the photographer is taking risk so pro... hahaa he took many shots along the highway... 

some of the ji muis in the bridegroom's house  
(taken the pix from Jing's facebook too, thx for uploading)
after the lunch meal .... we went back for a rest... and prepare for the night dinner loooo

the gal in flower dress is my primary friend - Jun Han =]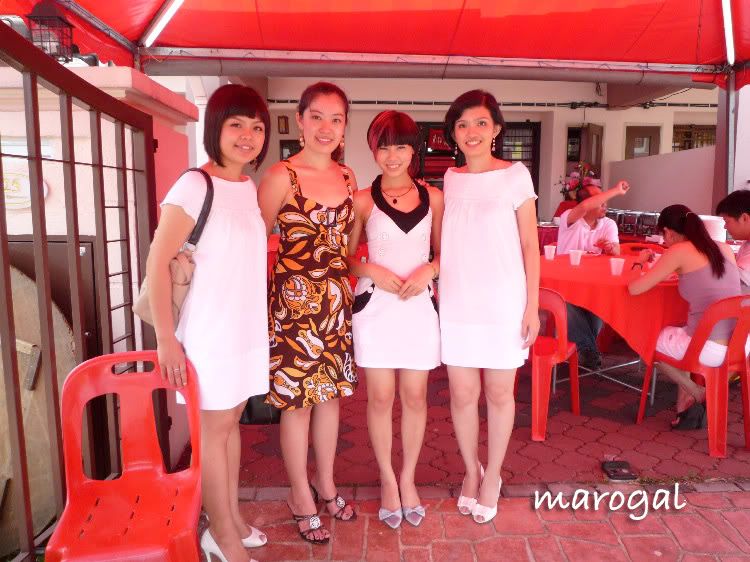 p/s: first time attending friend's wedding and also first time as a bridesmaid... i'm just blur and blur... not really know what to do... uh oh...