Is has been almost 2 weeks since
Apple
introduce the latest
ipod TOUCH 2nd generation
and
ipod NANO 4th generation
in US and all over the world. Currently, the ipod nano was out in Malaysia since last weekend but the ipod touch was not in yet. Last weekend i went over to
Epicentre
at Pavilion, a salesman told me he had no idea when the ipod touch to be introduce in Malaysia yet. However, yesterday i called-in epicentre to reconfirm. they told me it will be out either this weekend or next month. So just wait la...
Nevertheless... i still have no idea which to choose for my next gadget... hahaha choose 1 or don't buy at all... i still cant make up my mind...!!!
look at the difference and similarity... the ipod touch is so slim and small and cute.... so convenient... the ipod touch is just like the 'thin' model of iphone... so wish that iphone is here in Malaysia so i no need to crack my head to pick. ipod touch can watch movie, wifi surf web, an organizer and even playing games now...
got the price list from
machines.com.my
, the price of ipod touch 8G can get a ipod nano of 16G already.. furthermore additional 280 can get 16G ipod touch...!! aiks... how how how to choose?? of coz ipod touch is much better in terms of the functions and programs ... but i still aiming for iphone the most. What if the iphone come to Malaysia end of the year or next year?? hmm can i trade-in my ipod touch?? gosh.. i sound so ''pai ka''.. wasting money..!! hahahaaaa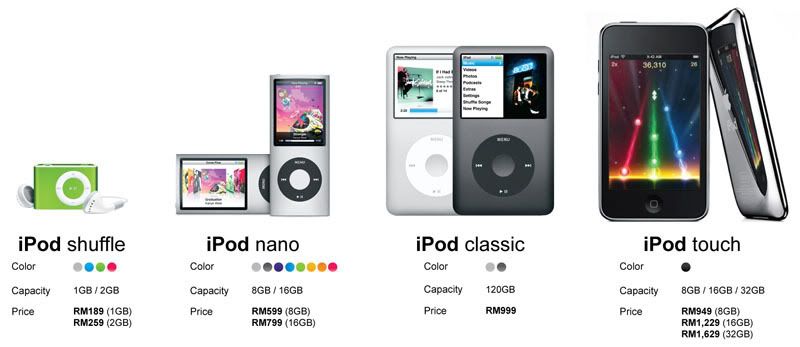 the ipod nano's colors and thinners actually attract me alot... however nowadays can listen music through
my IMAC
, in the car, radio, etc.. there is seldom for me to listen to nano unless going holidays..
if was say so... then ipod is a waste too.... cos i wont be using the itunes that much... and surfing web... i can do it at home... just an additional gadget for me to play with.... but actually there is not much time for me to play on it... my life is working (cant play with it)... home (got imac)... sleep (use it in the dreams??)... working... home... sleep..... lolz ... unless weekends....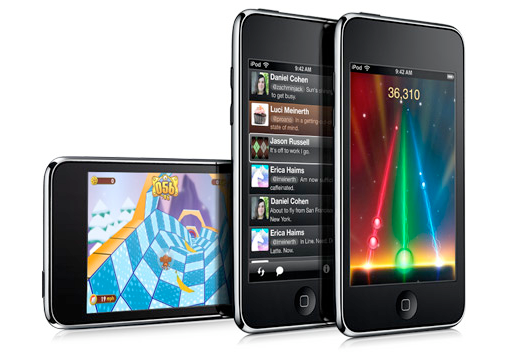 hmmmm.... so whats my conclusion??? waste money?? or save money??? aiks i'm so dilemma..
any suggestions pls ??