New Recipe : KOPI-O + KOPIKO
after monday blue yesterday... today is even worst... BLUE + BLUR !
i forgotten to bring my wallet to work today !!!!... no driving license, no identity card.. hahaa luckily there is no road block.. if not i'll be eating ''curry rice'' now. no money for lunch today and borrowed from a ''sweet colleague'' ... so pai seh... >.<
my eyes can't fully open the whole day... gonna be panda soon... so took a short nap during lunch time when boss is not around... but just help for 2 hours i'm back to sleepy again...
can't stand until 3pm a ''silly'' colleague
(why he is silly? because he is memang silly hahaha)
recommend me this KOPI-O.. so i went to pantry to add hot water. its 2 in 1 so added with sugar already very convenient.
but the taste abit bitter or just don't like the ''kip kip'' taste hahahaa...
so another ''crazy'' colleague ask me to try adding a KOPIKO sweet into it... YES is a sweet ! =.=''
i took a 2 mins thought and throw in the sweet.... hahahaaaaa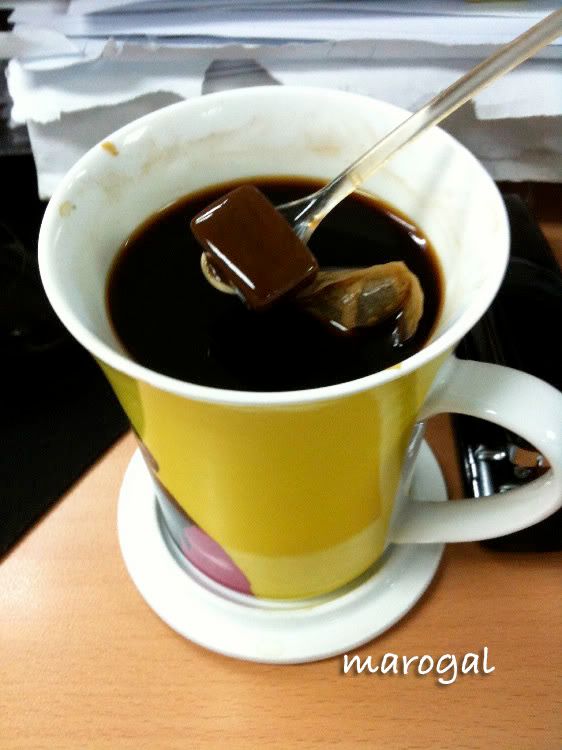 what does it taste like?? hmmm i not very sure also... but when the KOPI-O cool down abit is tasting better than before.... may be sweeter cause by the KOPIKO sweet... lolz
At least it helps to make me awake till finish work at 6.00pm hahhaaa still able to drive back home safely and fast-ly because no wallet with me... faster back home safer.
*btw, i think the KOPI-O is tooooo ''BLACK'' for my lungs and stomach la... teeth also turn BLACK... gosh... really will become PANDA one day if i drink it everyday.... ohhh NOOOOOooooo... i think i drink the Mocha is better.. taste nicer too.. hahhahahaaaa
---------------------------------------------------------------------------------
Divert CALLS from Maxis to DiGi
As i mention yesterday that i had MNP one of my
Maxis line to Digi
for my iPhone, its actually my secondary line. so now i have to bring 2 phones out due to most ppl contact me thru the primary line and only a few knew bout my 2ndary line only.
My trouble was settled suddenly when a ''sweet'' colleague suggest me to use call divert ! wah wah wah... i had actually thinking of how to use this service since ever i own 2 hp line few years ago. but never able to do it ... even seeking assistance from Maxis centre before but no one was able to tell me i can just settle it by diverting calls ! ... they just inform me that i can do it with a sim card with 2 numbers and the sub-line for data line only. But i have to register the 2 line under one name which mine was actually registered under 2 person. So it don't work on my case.... BAKA! should have suggest me to Divert Calls.
finally i found the solution for call diverting after so many years.. hahhaaaa feel so ashamed now... 0.0 yeahooo i'm able to receive calls from my primary (Maxis) line on my iPhone 3GS by diverting the Maxis line to DiGi line while enjoying unlimited data usage hahhaaaa
but i still have a
QUESTION
... anyone know how will the call charge? i will need to pay for the diverting calls from Maxis to DiGi? or the caller will need to pay for it? What if the family plan free calls to my Maxis line was now diverted to DiGi line? its not free anymore?
HELP..!!! who can answer me ??? thanks thannksssss
-n-