just now a friend send me something.. i wonder what was it... since MSN always have virus sending to each other even though the user is offline and unaware... then she ask me to accept definitely is not virus...hahhaaa
to my surprise is a card o.... !!!!
got pictures on it somemore... hahaaa then she told me is for fun only.... =.='' but how come even myself dint have those photos.. must be from her camera... so i requested for it.. but she don wan send me... so notti.... then i say nvm.. coz i will blog the card hahahaaa
then she so cute ask me wait and she go amend the card nicer and send me again.... lolz
ok.. this is the amended piece... But she say that she is learning to make cards... so make me the first one... AHhhaaa i tease her that why I become the ''white mouse'' (I know she doest mean that)
but i really don't care i'm the white mouse or not... i receive what my first feeling when seeing this card. :p (
suddenly so thick skin hahhaa
)
hahhaa... and i insist to be the puppy... lolz.. she also mou lek (
no strength
)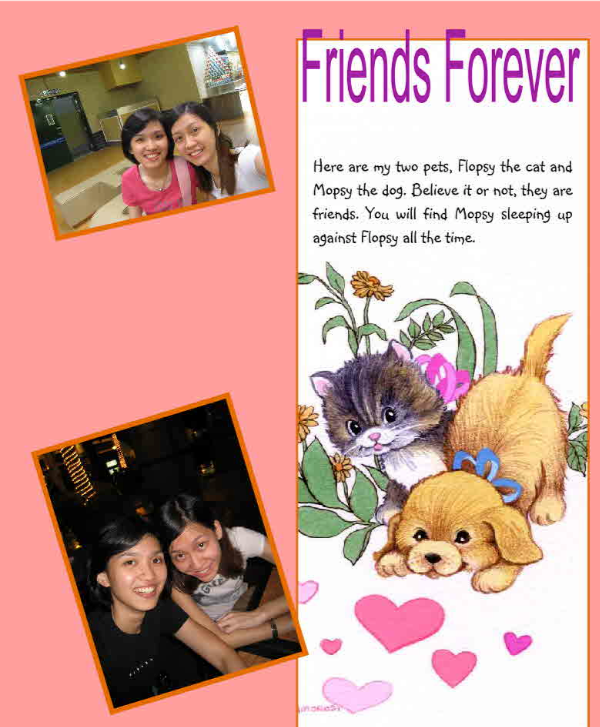 this little pin han... i call her pin pin... pin han... my dear and even pinky.. ahhaaa coz she got a pink doll and she likes pink too
i knew her since college/ university.... when we were in the same class... we get even closer when we start working in the same place same department... and we even car-pool....
we had almost the same up bringing... family ... brother.... etc... we are really talkative (i think).... coz we can chat all day... from anything... really is ANYTHING... we chat... we discuss... we complaint.. we laugh even for nothing.... we dream... we talk louder and louder sometimes... even just 2 of us in the car.. then we were like breathless very tired hahhaa (ok or its jus me getting louder, oopzz)
we can talk till reach each other's house... down from the car still continue-ing... mum sometimes heard from inside the house and ask me... why you see her everyday in the office all day long... reach home still cant finish talking =.='' hahhahaaaa even at night we chat on MSN.... now i wonder... eh really so many things to ''sembang'' ar??... hahhaaa oh no... by now she knew alot of my personal and secrets things tooooooo... !!
colleagues gave us a nickname ~ chopstick... lolz cannot be separated... they cannot stand us and wanna create another ''fork & spoon" themselves..
I truly appreciate this friendship... she teaches me alot.... she helps me alot... she supports me alot.. she also ''scold'' me when she know i'm ''silly'' on something... she is also meantime the only friend that can force me to change/ do something for my own good...etc.. and if not of her.. i dont think i can survive in the current job till now....
I knew she is now happy.. healthy and really hang fuk (幸福) ... I also feel happy and 安慰。。 hahhaa aiyo what am i talking... lolz
but still.... got one word for you too..... ~~
THANK YOU
~~ to be my friend dear.... muackz
oklar... actually true friends have nothing to say... coz all is 僅在不言中... everything is in heart 心照 laaaaa
you lar... send me the card... suddenly make me feel like writing something down.... write har write har... end up ''the long- gas blogger'' appear again....
* hope she dont come ''wack'' me after reading this post :p
-n-