hahhaaa the title is abit funny.... but its true wor..

yesterday i was on leave.. besides the 2 days leave during CNY.. i have not taken any leave this year...so i had planned yesterday to meet some doctors...
actually i felt cold and flu on sunday night... but to accompany mum the whole day i took 2 panadols to stay ''strong''

luckily yesterday is on leave no need to go for work... in the morning i had previously made an appointment with the Skin Specialist doctor at Subang ... the traffic in Subang is really terrible.... cant even find a double parking space at the commercial buildings there =.='' at last i went down myself and left mum in the car...

when i step near the Clinic.. i thought i went to the wrong place eh.... because there are so many ppl squeezing at the reception near the entrance... i was hardly to push open the door as i scared may knock someone... my first thought is... eh free gold bar giving out?? hahahaaa 

then at last i got a chance to speak to the nurse... luckily i got make an appointment but i was 5mins late..... ok first timer so i fill up a form and start to wait... luckily found a place to seat... its more crowded at the reception may they din't make appointment so have to wait gua.... 

at last i waited almost 30mins.... nearly fall asleep..luckily got iphone with me.. hahhaaa... but meeting doctor less than 5mins... he check up my sculpt and then gave me some vitamins and ampule to apply.. the medicine can last me for 2months..!!! he say come back to him after 2 months...

however, surprised me was the bill..... totaling RM400/= !!!!! omg !! not enough cash need to pay by card =.=''


then we went to pyramid kim gary for lunch.... i have not much appetite and cant finish my bowl of mee...
after lunch.... went back home... i just fell on the bed and faint...

3pm... mum wake me up.... had another appointment with Megah Medical for physiotherapy... because i got wrist pain...
the physio doc touch touch and say my nerves are too tight... too stiff... i'm just using the end part of the nerve but not the whole nerve itself... thats why i had a bad pain at the end of the wrist... ok well.... how would i control which nerve to use?? its internal mar.... how i know my nerve is not cooperative leh??... hahahaa ok then she whole my right hand and start some exercise... she say needs to do some light exercise after using the computer for a while...

then she put something on my nerve and it start to triggle my nerve (exercising it i think)... the the doc start massaging my shoulder and ask me got shoulder pain?? i recall and say... ya YES..!! i always sprain my neck easily..!!! eh is not a joke.. is true.. the doc nearly laugh out... ya she say coz my neck nerve is too stiff too !!! =.='' abit big movement will triggle the pain

keep hearing the doctor say... aiyo... ask what i also say pain.... it sound like i'm having an old man internal nerve and bones.. hahahaaa then she starts to massage my neck.... aiks..!!! its too hard so pain..!!!!!

she then mention that i can try to do yoga... BUT most of the movement i will unable to do... so don try to do it.... then i was thinking.... then shall i try yoga or shall not?? ask me do... but ask me don force to do... tat means??

after 30mins she thought my some simple exercise and the therapy is done.. bill RM66


then... i was feeling like shit... coughing non-stop.. walking also no strength... no choice gonna see doctor again...... next will be the Panel Doctor... (this is not in my schedule for today !!... )

i told doctor i'm having flu and coughing (as he can hear after i enter the doc room).. and also fever the day before... the doctor then ask me whether i went Mexico? =.='' i say NO.... ok then he ask the next question... Did i eat Roti Boy?? i was Har?? whats wrong with that i dint eat.... he say coz is Mexican Bun !! gosh... doctor... you really got 幽默感..

then i requested for a MC for today... doctor say of coz i will give you.. if not later u spread to all your colleagues the company need to quarantine how? i SWT again =.=''  
if you have not enough energy really cannot visit this clinic... the doctor and even nurse also ''plays'' you...   (did you see nurse use eye signal to ask me go in doctor's room myself.. and later ask me to prepare the medicine myself.. ..  no strength to play with them la.... dont play me la!!)


at last after the whole day i was able to go home and rest... i know i'm very weak... always got sick like every 2 months =.=''
this time i wanna scold someone... don't care he see this or not... its my colleague... i want shout out his name also.. hahahaaa mr LEONARD..!!!! he got sick last week... and refuse to see doctor and take MC back home.... i told him that he will spread to me since i'm so weak.. hahaha and now serve my right... i fall sick already.... you BAD !



haiz... why cant i live without the medicine??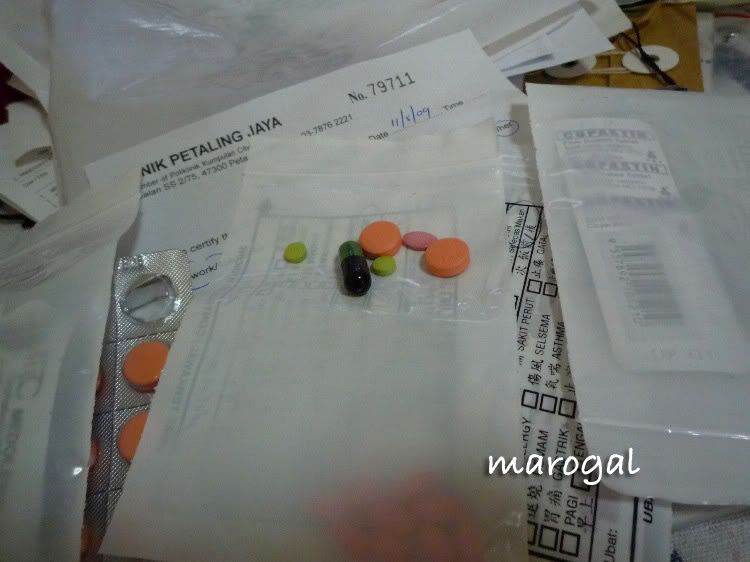 my dinner ... meat porridge and my beloved sweet corn..!!!   i think i'm not that serious la... coz i still have good appetite to eat all the porridge....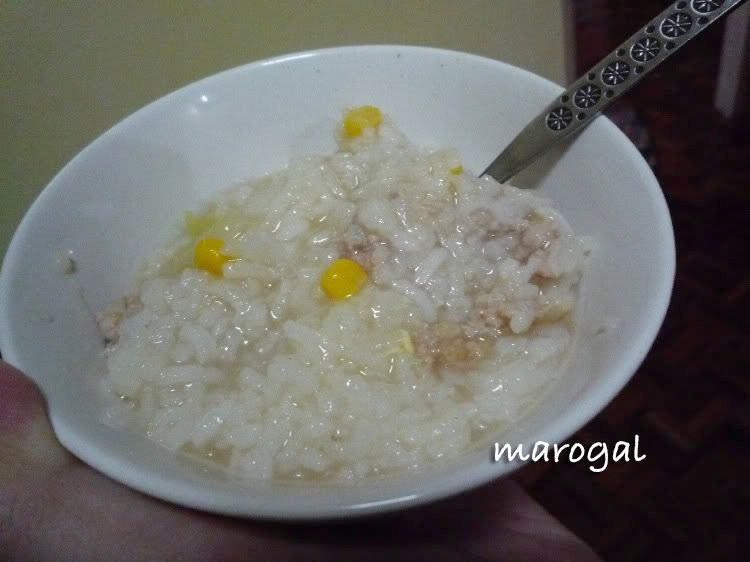 this morning wake up... i felt i'm more sick than yesterday !!!! why???  no more fever left bit cough and flu.... but i'm more weak then yesterday... cant even stand straight....
because my shoulder and back bone is so pain..!!!!!! the physio doctor..!!!!   massage me yesterday...... now is all so sore..!! aiks..!!! 
nevertheless i still have to start work tomorrow....  i wish to have more holidays la.... 
** ooops dint realize my post is super long already... hahhaa**
-n-