Wonder had anyone book the
iPhone 3G from Maxis
???
ok.. i had actually tried to book a set through Maxis .. hahhaa   but of coz i had read the
terms & conditions
carefully that i found this clause : 
Booking is only confirmed when the customer receives a Confirmation ID via SMS and Email. Booking merely indicates an interest to purchase the iPhone 3G and shall not be construed as a binding agreement for the sale/purchase of the iPhone 3G.
so that i wont be borne any conditions that i must pay for it if i successfully book a set of iPhone 3G. 
i had screenshot the step on How to book an iPhone through 
Maxis iPhone
web
** actually is so easy that just follow the steps and key in all information that they require**
choose whether to keep ur existing number or apply for a new wan..

fill up all the details that is required  ** remember that a NRIC can only apply for a maximum of 2 sets (principal + supplementary) only.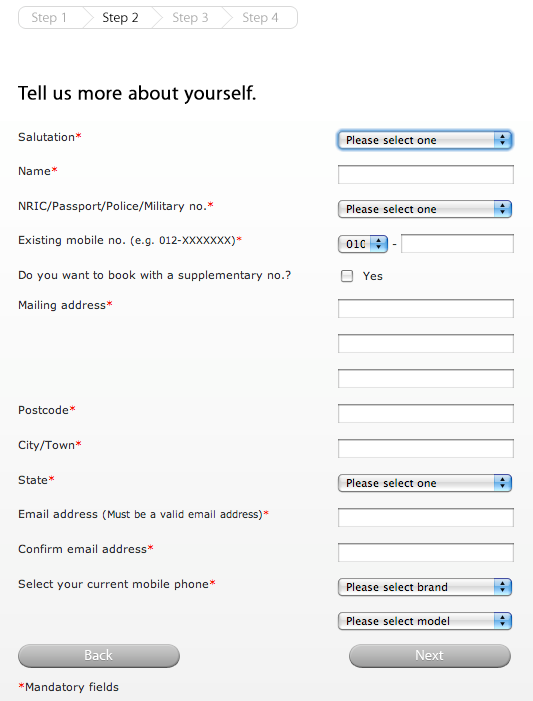 here is the difficult step.... hahhaa which model and which plan to pick??? difficult right?? coz once you choose you can't change your mind already.
then you will need to choose a date from 20-22 March 2009 and a convenient time slot to pick up your
iPhone 3G
.  if you get to pick the 20th then you will be able to attend the launching ceremony (i think so)
lastly is to double check your information that had been submitted.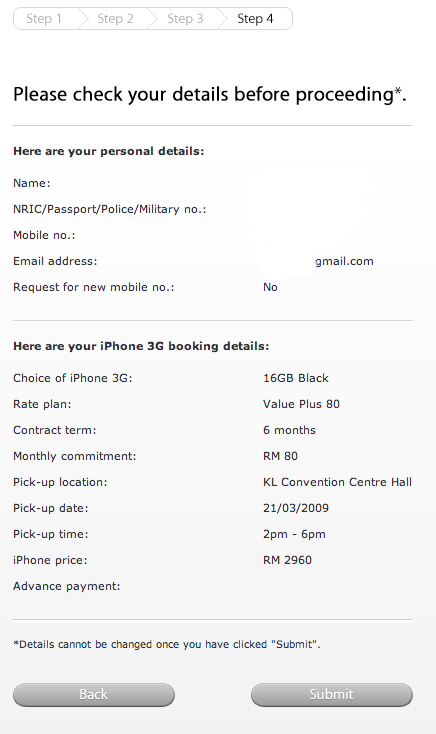 finally your booking is being process.  wait patiently for their reply within 2 working days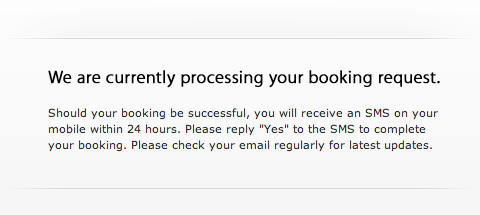 and really i got my 1st email reply from Maxis after 2 working days.  i actually dint aware there was an error on the plan that i pick.

so after a few hours, maxis send me a reminder on their mistake. they amended my booking details but still remain the Confirmation ID.

HOWEVER..!!!    the next day.... i got another email from maxis.... i thought they had make another error...
but instead is a new copy of Confirmation ID....   >.<
nevertheless, 5 minutes later... my inbox pop another new mail from Maxis.
Again i got the 3rd Confirmation ID.....!!!!
i swear i only submit a booking to Maxis.... only 1 lor...
how come Maxis is sending me so many Confirmation ID???   
well, IF i'm so wanted to buy the iPhone... which confirmation ID shall i bring to KLCC on that day??? lolz that means i can buy 3 sets? hahhahaa 
they are so lack of bookings is it?? or several personnel processing the same bookings... 
Does anyone make the bookings?? facing the same problem? 
this is funny... but actually i not gonna buy la.. just try out the booking since i always wanted Maxis to bring it in before i bought mine... but they are too late... so i just play on it at least i had prebook an iphone 3G before... lolz haahahaaa    =.=!!!