Today I got a SMS from Maxis to my other phone. Usually i will just give a glance on it and delete them because mostly are just advertisements. However, due to previous experience, I learn my lesson to read carefully. I believe many Maxis users encounter with the previous incident on
''SPEESH" service
that will auto charge RM1.50 weekly for the service if you did not request to Cancel the service after the Free trial deadline. My blogpost on
SPEESH
is still one of the top search in my blog todate.
Here goes the SMS notification from Maxis this afternoon. So it means the FREE trial has ended (28th Feb 2011). Each notification will be charged 5 cents/SMS from 1st March 2011, if you did not OFF it. >.<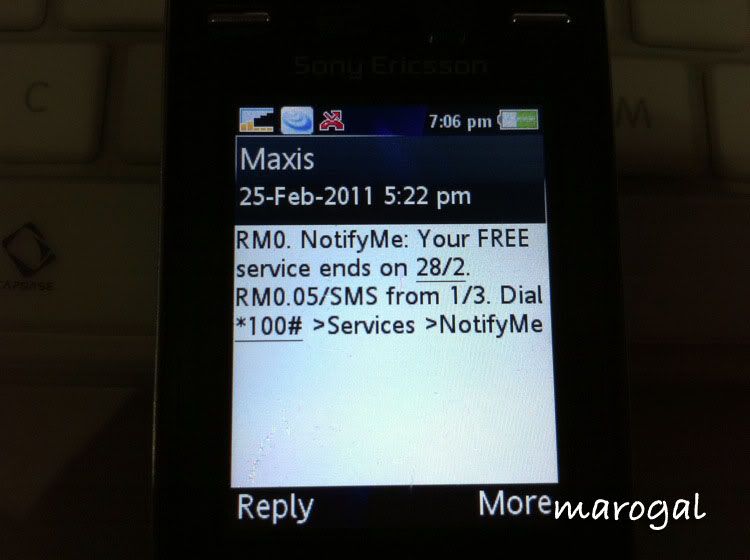 So what is NotifyMe?? It is a new service of notification through SMS by Maxis. Some example as below:
I'm quite disappointed with Maxis Service now. Maxis extra charged me on my iPhone plan every month for the past 4 months. Luckily now is settled. I will blog about it next time.
And again now, Maxis is giving us problem again. Luckily I saw the SMS, if not the same situation will happen again like the
SPEESH
.
Looking back to one of my previous reply, Maxis say that Speesh is a 3rd party company, they have no control to stop it (which i don't believe, if Maxis don't agree, how can Speesh spam us the SMS and bill us in Maxis Bill). Fine and now? NOTIFYME is a Maxis service!! not 3rd 4th 5th party. I wonder who will they blame on now.
I had screen cap the steps to OFF notifyme. Hope this help. You may ignore this if you want to continue with the service.
STEPS to turn OFF NotifyMe Service by Maxis
Dial
*100#
this screen below will appear. click reply
Type
5
, then click Reply.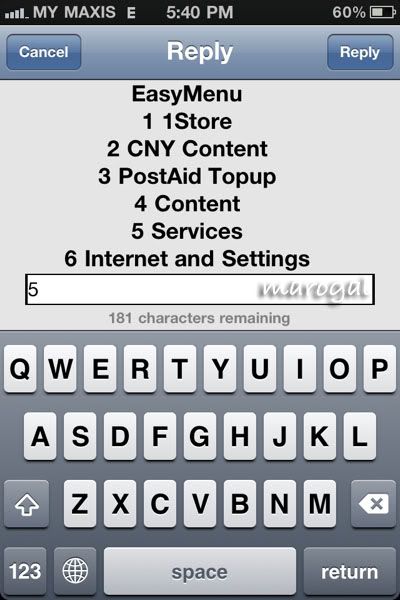 this screen subsequently appear. Click reply.
Type
2
and click Reply.
NotifyMe is shown ON. ---- which means they will start charge RM0.05 starting from 1st March 2011.
Click Reply then type 1 and Click reply again. Remember to repeat the steps. Make sure your NotifyMe is shown as ''OFF''.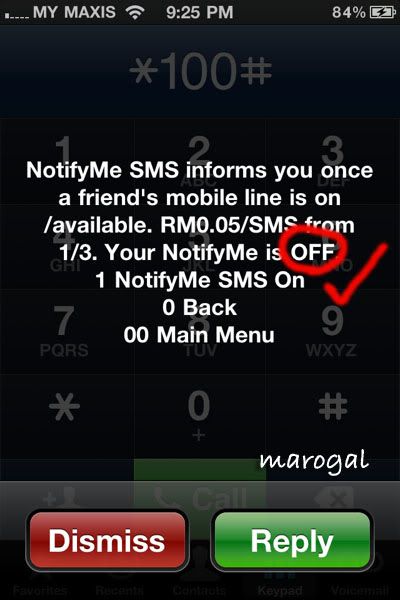 I'm not stingy of the RM0.05/SMS and I feel the notifyme service is good that at least inform you on the status if you can't get through the number. HOWEVER, please inform us or advertise the service PUBLICLY. Don't charge us secretly. It's consider CHEATING !!


My family are Maxis users. Only one of my HP got the reminder SMS. Not others yet (i use ''yet'' because still got 3 days b4 due date). I had check all their HPs, all status of NotifyMe was shown ''ON''. =.=''
-n-