Today is interesting.. during lunch time at work around 12pm... we heard a big bang sound which last for at least 3 seconds ''eeee bing bang bang bang''. Everyone rush to the window to have a look. Wondering is it an accident, and worried about own car got hit.
When i saw the incident spot, was relief that i did not park there today! As i used to park there quite often when i cant find any parking space. One of the colleague shouted as she saw her car at the incident spot (the red circle)..!!!
So most of us went down to have a look.
oh gosh... the accident involved 6 cars where one of them is the main culprit that had hit and RUN ! A Lancer Mitsubishi (yellow spot on top) had a sudden knocked by a Honda (ran away after that) from the junction, then Lancer out of control and ski further hit the Honda City (golden), Merdz Compressor (middle) and Wira (black). The poor Merdz was hit too hard and fly over the long kang and hit the Volvo S40 (infront). WHAT a MIRACLE accident!!! the Lancer must be speeding in a narrow road but he claimed that he did not.. hmmmmm
my colleague's car... CITY... ouch !
why i saw the ''poor'' merdz... because it gets the WORST of all.
Wira (our colleague also!) get hurt behind but not very serious i think... 5 cars.. and 2 is from our office =.='' and the two other cars beside City and Wira are from our office too... luckily din't involved !! so SWT ..
Looking for a new car? May consider Lancer .. hahaha because its quite solid after so many bangs its still crash the front side only.
after lunch... saw the Merdz got towed finally...
the Volvo was damaged on the left door... but seriously the accident did not make the driver appear... no one came out to admit this car... hahahaa until 5pm saw the Volvo was not there anymore... wonder if the driver just get in through the driver seat, he/ she may not know that the car was bang on the left side =.=''
the colleague's car was sent to one of the mechanic shop nearby and waited to go PJ State Police Station to make report. A new car drove less than 1 year only... she was so sad about it..
and see what they found.... the Lancer actually happen to knock down the Culprit (honda)'s car number plate when they bang into each other at the junction... hahahaa the story teaches us that DON'T HIT and RUN, YOU MAY LEAVE SOME EVIDENCE BEHIND !! (天網恢恢,疏而不漏)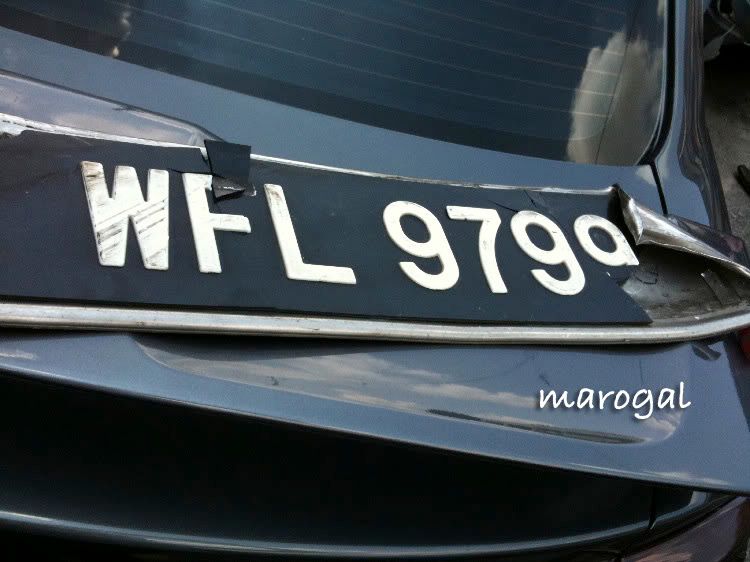 Most pity is that the cars are just park nicely in parking space but end up got HIT and although got insurance claims but you will have no transport for the next few weeks ! Lancer also quite choosy, chosen all expensive cars to hit... hahaaa
Our department share RM2 each to buy ToTo for all the 6 cars just now... oopz.
.
* marogal LIVE report from the incident spot @ 12.20pm (in facebook) hahahaa but now only got time to update in Bloggie =]
-n-