i just got sick (sorethroat, flu and cough) before Chinese New Year which was just less than a month ago.....
yesterday i got a bad sorethroat after eating 2 piece of the CNY biscuit - ''bee hive biscuit''
but i think not just because of the biscuit... possibility that accumulated previous days of cookies and nasi lemak i ate too... why my antibody is sooooo lame >.<
at night took the throat medicine 'sweet' given by a colleague before CNY...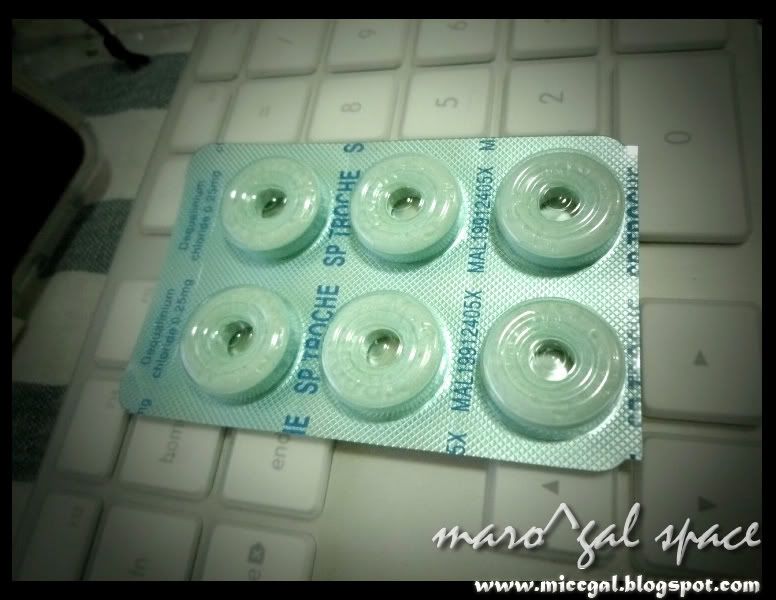 but it doesn't seems to help .... instead getting worst .. =.=''


today woke up... my throat is really bad and pain while swallowing.... eh funny after brushing teeth it's feeling better... (may be the toothpaste cool it.. hahha)
however, noon after lunch..... my nose start to itch..... oh noooo!!!! 2nd fren - running rose came..... flu again..... =.=''
by the time i reach home after work.... my eye was hardly open..... just faint on the bed and had a nap....
reminded by a fren ... that she recommended me a medicine..!!! i just bought it before CNY too... hahahaa all the medicine can be re-use ....
and i always thought... liquid mixture medicine usually is for coughing....
but when i re-look again today... i found out.. is actually for runny nose, sneezing and stuffy nose too..!!!! just right for me....
i find this medicine quite effective... at least for my previous sick of flu and cough.... can get it at the pharmacy.. with a reasonable price of RM12 only... (oops... i'm not advertising just sharing my experience)
hope this time it helps me too..!!!!
wonder why do this ''bunch of frenz'' always come together??? sorethroat --- running nose / flu --- cough / fever !!! pls !!! cough don't come .... i really scared of U - cough..!!! this time you are not invited... you are not welcomed..!!!!! hahhaaa
by the way, another good fren of flu is...... this..
a box of tissue following me the whole night.... lolz...
i'm having a clown red nose now...
made myself a cup of hot cereal milk ... for supper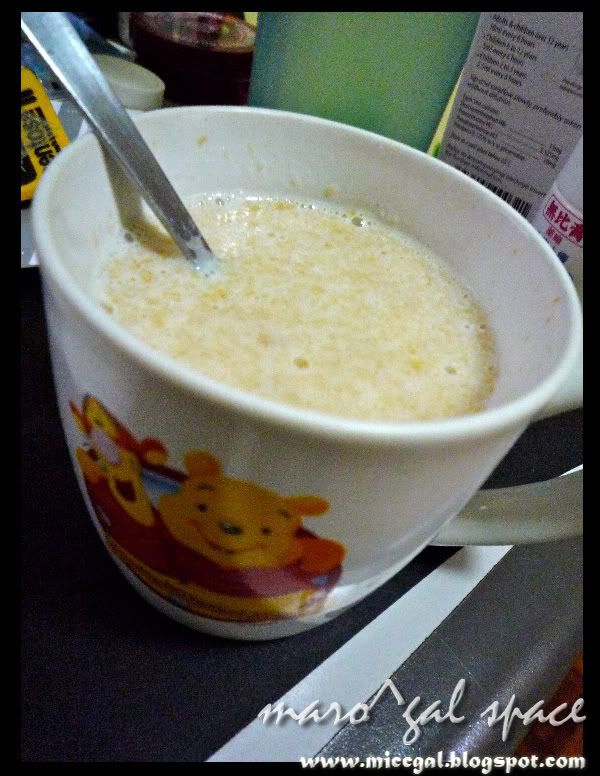 then i will be going to bed..... WAH..!!!! no one will believe i'm going to bed so early... hahahaa but no choice.... very tired and eye hardly open.. nose rub till painful too..!!! aiks
hope i get well soon... before the big ''tai koh'' - mr cough came visit me....
nightz
-n-