hahhaa... yes i'm gonna -"
back-date
''- this post... i'm blogging my Valentine day now..!! =.=''   although is abit late.... ahaahahaa  
 (has been very lazy for months to arrange all the photos)
but i still wan blog about it...  
(will backdate it to February next week after my frenz and readers read it)
the day before, See Wei called me out for a movie....and since i had nothing to do on Valentine's Day.... so i called along leng jie... and we 3 go 1U to celebrate our Valentine's day.... 
while collecting the movie tickets, saw the "Geng: Pengembaraan Bermula" cartoon autograph session... by KIDS !!!  kids also have fanz now... hahaa this is cool..
We watched the
Pink Panther 2 [blog]
  - really a funny movie and we laugh like mad in the cinema.. oopz.. 
at night we have dinner at
New York New York Deli [blog]
... a deli cafe just open after the renovation on the previous Giant hypermarket space.... and only i know Giant actually took up so huge space.. because now so many new shops and restaurants held in there and even a Cold Storage market in there and still the corridor was so spacious... 
Roasted mushroom Cappuccino ..i was curious about the ''cappuccino''... there isnt any taste of coffee in it .. but actually the cream bubbles on top looks like only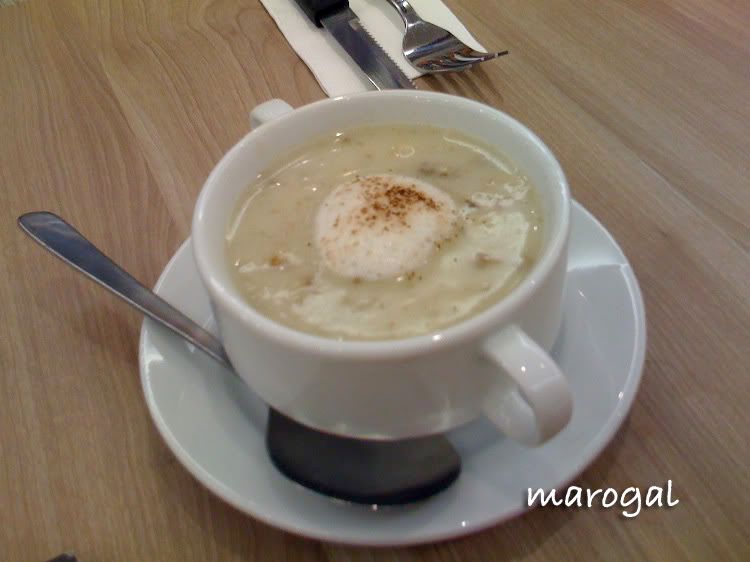 Mo' Mushroom - lots of slice mushroom inside..  cheese... and tomato

cwei's fillet with carbonara spaghetti

leng jie's half chicken with carbonara penne  
cheesy mussels
 (not hot enough... quite cold)
hmmm think she is first time appearing in my blog.... so have to introduce her abit... lolz

my beloved friend since primary two....  see wei  (hahhaa she also not much changes since small la... )

see wei and leng jie
victory....!!  hahhaa enjoying ourselves and ignore and passerby.... lolz
-n-