**warning** this post contains some unpleasant / disgusting pictures. view at ur own risk (13PG)
went to the SS2 night market almost every week. there is a small stall selling fresh farm frogs (田雞)... the seller will kill and pack the fresh frog meat on the spot!!.
1st knock faint the creature, then cut off its mouth... and start to peel its skin with a ''tool''.
....
i think the method of killing the live jumping frogs is the most terrible, painful and disgusting, as compare to all kinds of animals (eg. fish, chicken, mutton, beef) that human eat..
i was unable to take the lively frogs pix at the night market.... so i google to find for some pix..
but i think these frogs are normal frogs that cannot be eaten bah... HAHhahaa
is this a toad?? lol i really dono....
hmmmm what bout this??... farm frogs??.... errr no idea too..... hahahaa
coz the wan i saw in night market.... they are quite greenish.... and smooth type skin... o.O
i likes to eat farm frogs actually...田雞粥 (farm frog porridge) and 田雞褒 (claypot farm frog) are very yummy.... but hardly found them in some restaurants.. so yesterday i walk to the ''frog seller'' and ask for the price... (1st time buying)... i dont really understand what is he telling me... may he just thought i'm not gonna buy and just having fun... so he just murmured to me =.=''' then i just ask him for 2 frogs...
while he was ''finishing'' the frogs i just go other stall to buy some kuih kuih... to avoid seeing the killing scene... after 2 mins he was done... lolz he pack two plastic bags for me and everything cost RM10.
**warning** this post contains some unpleasant / disgusting pictures. view at ur own risk (13PG)


here is the fresh naked farm frog meat..!!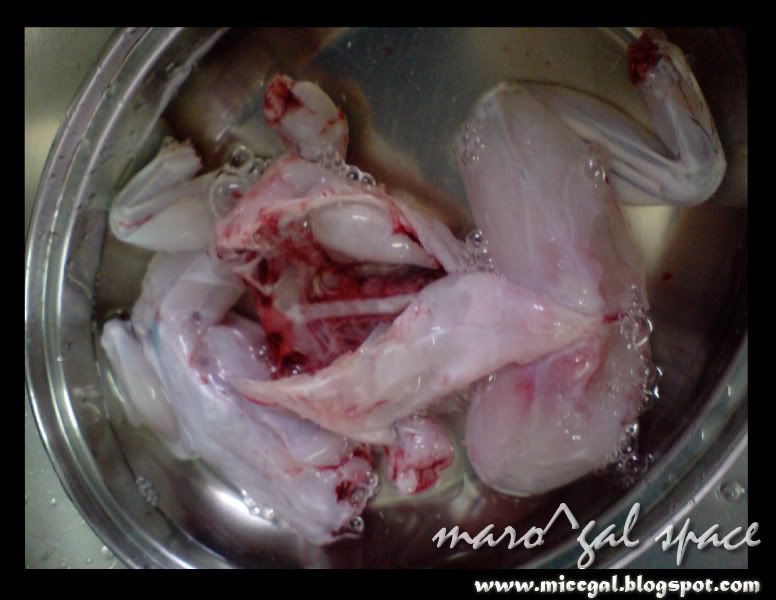 (to prevent scaring ppl away... i resized the pix.. click to enlarge it)
my dad then chop them into smaller pieces...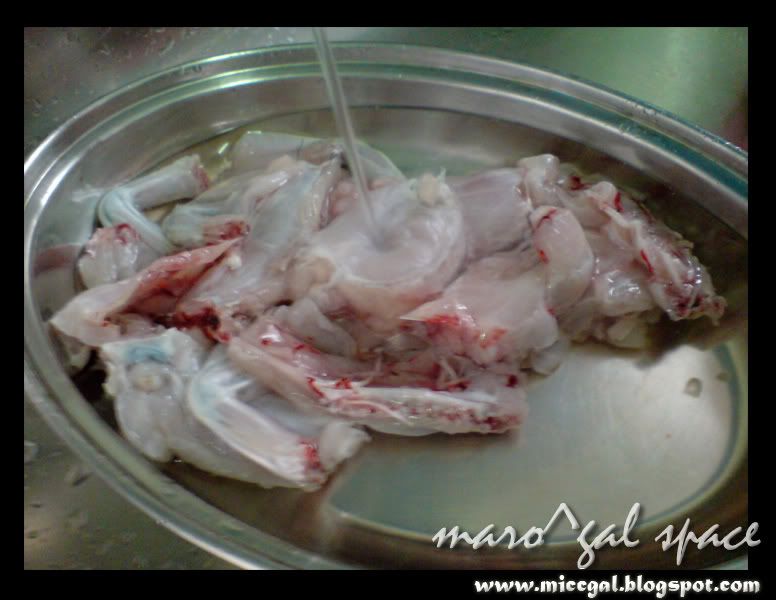 hahaha then mum take over to cook them....!!
nice and smell goods farm frogs with ginger n black sauce is prepared on the table ready for dinner....
because is fresh... the meat is soft and smooth..... delicious oooo....
sorry frog... but i just like eating .... =.=''
-n-