Tiger Beer presents biggest music festival fever for 10 hours gonna explode in Malaysia this year with appearance of more than 20 artistes from seven Asian nations.
Tiger将在马来西亚呈献直至目前为止规模最大的亚洲音乐节。这个长达十个小时令人惊喜的音乐盛会,精彩节目连绵不断,肯定是亚洲音乐爱好者不可错过的。
Date :
30th April 2011 (Saturday)
Venue :
Mines International Exhibition & Convention Centre (MIECC), Sri Kembangan
Tickets :
RM248 (rock zone) and RM128
Age Restriction: above 18 years of age
Participate Artists from 7 countries:
Hong Kong
- 24 herbs 廿四味
Six piece collective of individuals made up of DorYuk, Drunk, Ghost Style, JBS, Kit and Phat have one officially released album. Since their formation they have played close to 100 shows; clubs, concerts, sponsored events and at festivals.
-Paul Wong 黄贯中
a composer, songwriter, singer and the lead guitarist of the Hong Kong rock band Beyond.
- Edison Chen 陈冠希
Hong Kong-based Chinese Canadian film actor, rapper, Cantopop singer, model, record producer, fashion designer, and a pop icon. Chen is also the founder of CLOT Inc., and the CEO of Clot Media Division Limited.
- Fama 农夫
duo of rapping (Hip-hop) founded by DJ Tommy consisting of members C-Kwan and 6-Wing. They are part of the hip-hop wave in the mainstream cantopop music scene, which was initiated by Edison Chen in the mid-2000s.
- Sam Lee 李璨琛
an actor from Hong Kong, China. He started his film career when he was first spotted by director Fruit Chan who cast him in Made in Hong Kong. Sam is a seasonal member of a metal/hip-hop band Lazy Mutha Fucka (LMF) where he is the rapper. Sam Lee is also known as DJ Becareful.
- Paisley Hu 胡蓓蔚
Chinese singer and popular TV personality. She was first discovered by Tats Lau of the legendary Tat Ming Pair, and has released 3 albums and 1 EP since the start of her career in the mid-90s.
Korea
- Se7en
Through 5 years of the career triumph, this talented good-looking young man is maintaining his position as a top male singer in Korea.
China
- Bibi 周笔畅
Chinese singer and songwriter. She was the first runner-up in the 2005 Super Girl Competition, which is a Chinese version of Pop Idol for female contestants only.
Taiwan
- Jing Chang 张芸京
Chang made her debut as a singer after winning the first season of a Taiwanese singing competition called Super Idol.
- Kevin Lin林隆璇
Taiwanese singer, song writer and producer. He has released more than 500 songs, written lyrics for more than 100 songs and produced more than 50 albums since 1987.
- Lollipop F
- Tiger Huang 黄小琥
Thailand
- Namcha
Singapore
- A-Do 阿杜
Construction foreman turned superstar - A-Do not only qualifies as a legend in the Chinese pop industry, but also personifies Asia's iconic rags-to-riches story.
- Olivia Ong 王俪婷
Likened to Seiko Matsuda, she won a singing contest and was signed to a Japanese recording company S2S Pte Ltd at the age of 15. Ong moved to Japan to further her studies as well as her career as a solo artist.
- Derrick Hoh 何维健
Local (Malaysia)
- Daydream
- Manhand 慢行
ManHanD, showcases the Hip Hop/Rap Group's unique music characteristics.
- Rosevelt
- Hao Ren 朱浩仁
- Jess Lee李佳薇
Malaysian female artist, who has achieved success in the Taiwan Super Star Avenue where she emerged as the first Malaysia singer to have won the competition.
- Suki 刘纾妤
is the winner in the One in a Million competition. It is Malaysia's first ever reality singing competition to offer a one million ringgit prize to the winner, garnering 39% on overall total votes.
- Josh Lai 赖力豪
- Will Ng 黄威尔
MIECC Floor Plan: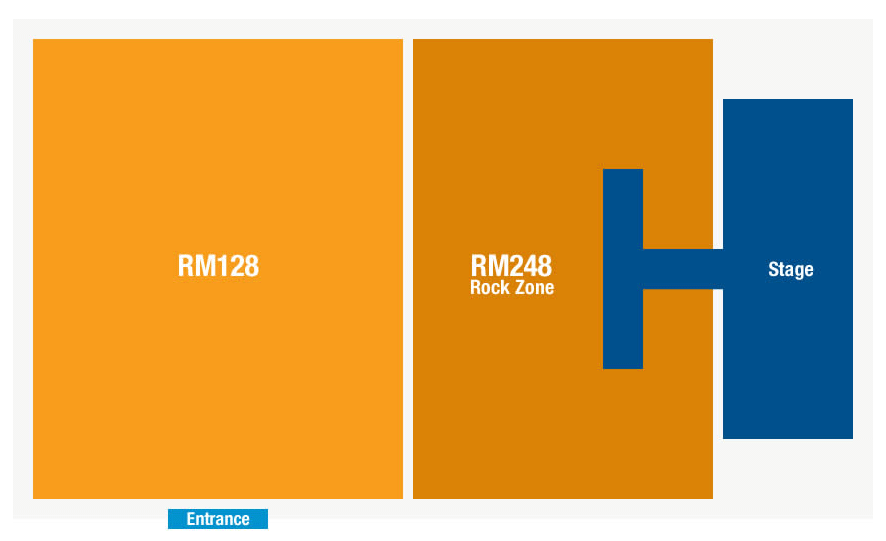 Tickets available at :
Galaxy Headquarters at The Boulevard, MV City
Galaxy Counters - Sungai Wang and Wisma MPL
Speedy Video outlets nationwide
Rock Corner
Station One outlets
Online bookings
Share and earn from Says.com? Check this out -
LINK
-n-