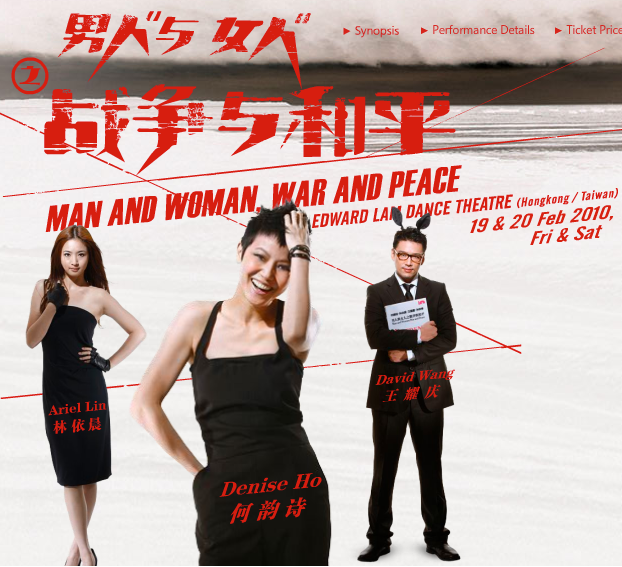 男人與女人之戰爭與和平 舞台劇
Man and Woman, War and Peace
by Edward Lam Dance Theatre (Hong Kong/ Taiwan)

Date / Time
19 Feb 2010, Fri 8pm
20 Feb 2010, Sat 2.30pm & 8pm

Venue
Esplanade Theatre, Singapore


Duration
150mins, including 20mins intermission

Ticket Price
$38, $48, $68, $88, $108
Synopsis
It is war between the sexes and the weapons seem to be razor-sharp wit, brute machismo and lethal beauty. But, wait, the men are turning into boys and the women are turning into men!
Who really are the "men" and "women" in this battle? Who will succumb first to love? And who will be the most brutal to achieve victory at all costs?

In Man and Woman, War and Peace, the practice of love becomes a complex battlefield in which a multitude of conventionally male, typically female and androgynous characters, played by six actors and six actresses, in two competing TV shows about relationships, show you how they recruit an army for their cause and fight to win.
Featuring Taiwanese idol Ariel Lin, multi-faceted Taiwanese actor David Wang (also in Lam's previous productions, What is Man and Design for Living), and renowned Hong Kong music producer and Cantopop star Denise Ho among its famous, young cast and crew, Man and Woman, War and Peace is acclaimed Hong Kong director Edward Lam's latest theatre production – a fast-paced, sharply witty urban play about the perennial love/hate relationship between the sexes, but minus the clichés, and with a twist.


下世纪预言——男人将变回男孩,女人将成为男人。
爱情,将从此消失!



一出爱不厌诈斗不嫌倦的现代都会舞台剧, 香港名导演林奕华另一全新佳作,由台湾型男王耀庆、偶像剧小天后林依晨,以及香港唱作音乐人何韵诗主演。
Some promotional pictures
Ariel Lin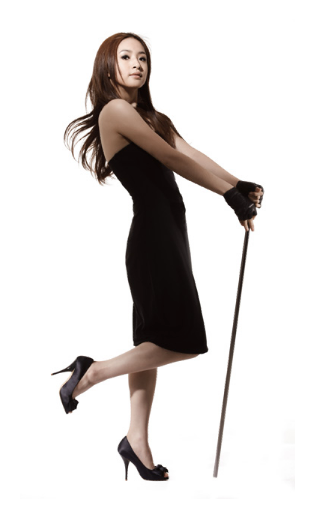 Denise Ho
David Wang
Together with Mr Edwand Lam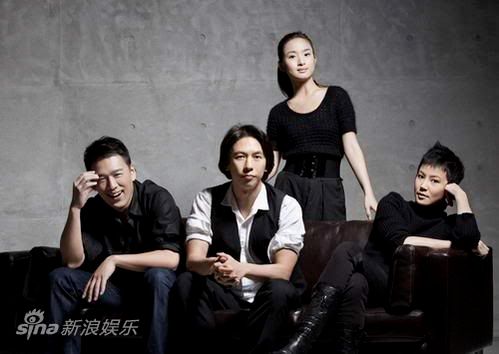 The drama crew when performing in Hong Kong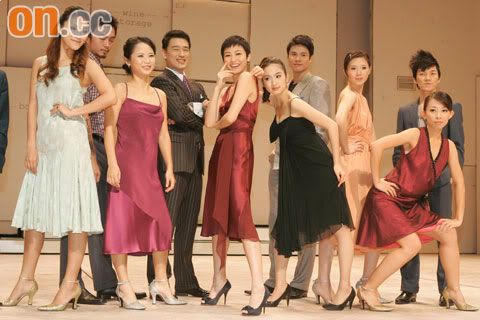 They had been performing 6 play in Hong Kong and over 14 play in different state of China since last November 2009 till January 2010. Currently the last stop will be in Singapore, as they had no updates to perform in other country yet.
-n-