passby KK store almost everyday... 
and the egg machines 扭蛋機 were always outside of the shop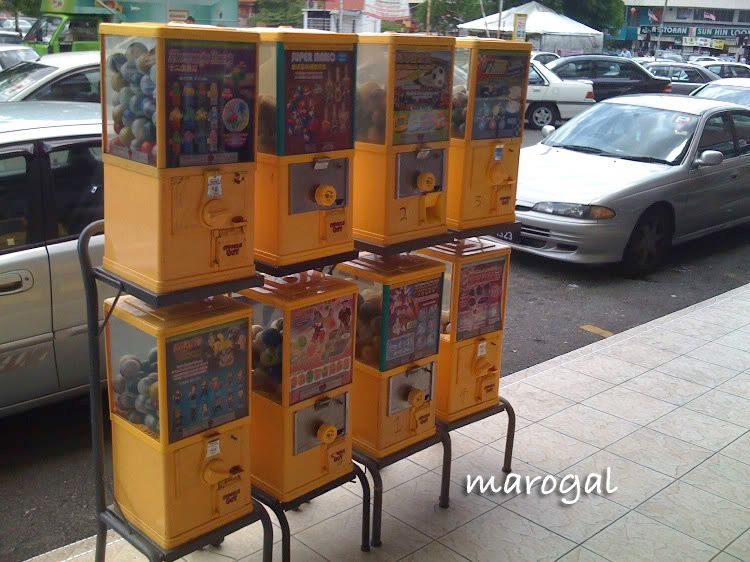 Yesterday... as usual when i was passing by... suddenly something caught my eye-sight.... i saw goo (mushroom) !!!!! as i like goo.. i'm quite alert when seeing something like Super Mario bros .... 

after thinking for some time..and looking at the ''egg capsules'' inside the transparent machines... i doubt that the eggs capsules are genuine.... =.=''   coz they looks small.... hmmm may be is mini super Mario.... 
colleagues say that... worth a try since is just 50cents X 2....   its super cheap compared to what i played before.. which are like 4 tokens (rm2 each)... 
out of my surprised..!!!  i was shocked actually with what i got at last...  its a super mini mini WINNIE the POOH !!!   so i went into KK for an exchange because its totally 貨不對版 out of the picture of super Mario bros. 
however the workers there are mostly foreigners... bangladesh or Pakistanis....  they just want to ignore me... and playing a fool that they don't know anything... at last i request for a call to their boss / in charge person. and this stupid cashier gave me a stupid phone number to another stupid foreign worker / their friend number... talking stupid language to me....  at last my colleague saw a enquiry telephone number on a banner near the cashier.... luckily the person is a local... whom can talk human language ... gosh....
after my explanation.... he said that... he cant do anything as he also wont know what is in the ''egg machine''..... he continue explained that this is one type of BUSINESS TECHNIQUE ~!!!! what stupid biz technique is this??.... to cheat ppl or kids??    i never see these kind of egg machines that is different from the picture shown...... ish...
THIS IS CHEATING
~!!
at last... he cant do anything for me ... but just take note and help me to voice out to the egg machine vendor....   and so there goes my RM1 dollar....

this is not my first time playing on the ''egg machines'' ... still remember i even blog it once i bought from the curve -
Blogpost
back home i took a pix of the genuine goo (mushroom) which i got it from a ~BanDai Carnival Egg Machines~ in TimeSquare...
see the big difference??    a clear and a blur egg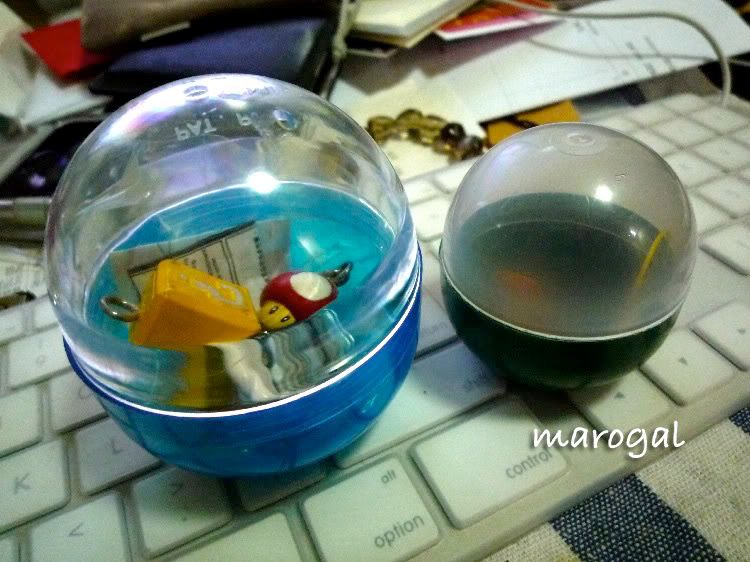 a huge and a tiny
(the mushroom bit dirty coz i used it for months last time.. hehehee)
the genuine wan even got a paper leaflet inside....product from Japan
i don't mind that the KK egg machine is product from China or what.... ugly or tiny... but at least something from Super Mario Bros.... and not winnie the POOH..!!!!!! 
although is just RM1... but still is a cost.... is money.....   don't cheat 'kids' money like this.... those are parents blood money......  so pity... even now i got cheated..... !!!!!!  
KK i will remember you..!!!  and your stupid foreign workers..!!!  
-n-