大搜查之女 (DVD) (導演加長版)
After watching the movie in cinema for twice beginning of the year... finally the DVD is out.... the best part is that it comes with the full version of - ''Director's Cut'' ... !!!
Malaysia is selling the cinema version.... so i bought this through yesasia.com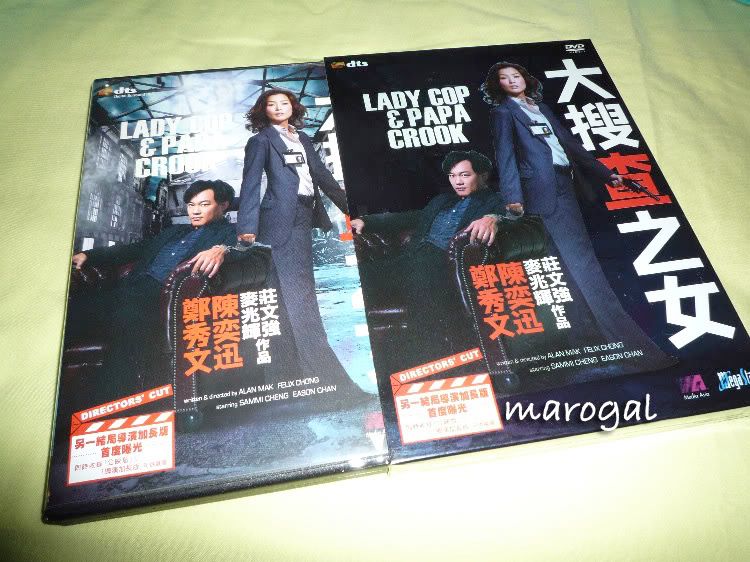 Finally I got to watch the parts that was missing previously -
blog
- ie pregnant sammi !! and some tiny parts... the ending, Eason was not caught by the China police.. he got back to Hong Kong and continue to be the head of ''traids'' although he told Sammi that he already stop all illegal things... Sammi caught him on video by fixing a hidden camera in a teddy bear for his new born baby. There is almost 5 - 10mins more at the Ending !!
the FULL version is much much better than the cinema version la...!!!
I think if you wanna get it in Malaysia :
1) need to order from music shop ie Rock Corner
Product Information / Track List
另一結局導演加長版 (首度暴光)
同時收錄「公映版」及「導演加長版」可供選擇
* 特別收錄:
- 製作特輯
- 預告
* 片長: 98/91 分鐘
導演: 麥兆輝,莊文強
經營非法紅油的黑道油王霍青松(陳奕迅 飾)因一次油車爆炸意外成為香港警方及國內公安眼中釘,此時要面對獨生子被綁架的他顯得心焦如焚。
高級督察司徒慕蓮(鄭秀文 飾)是警隊明日之星,以精明幹練見稱警界,她接手偵查霍青松之子綁架案的任務,動員全幫上下追查,帶隊進駐霍家,使他決定與警方合作救出兒子。
綁架案動員全港員警以至內地公安。當中包括有份參與圍捕紅油集團而致油車爆炸的公安隊長趙天河(董勇飾),他與意外中死者的丈夫徐半山(張國立飾)結成知交,卻對青松恨之入骨。
黑白兩道破天荒攜手合作,雙方卻衝突連連,偵查行動寸步難移,慕蓮發現自己懷了身孕,陷於情感危機;青松救子心切又要保住幫派,左右做人難。經過種種難關,慕蓮與青松化敵為友,綁匪亦自投羅網。然而,最終前來交換人質的,竟是趙天河!
-n-