From now and then i came across some bloggers asking me on
how to set up the cute little icon beside my URL
.. therefore today i decided share it in my blog so next time i can easily show them this blog post... hahhaaa lazy me to explain again and again... =]
actually i learn this last year from google-ing through the web... however i really forgotten where i got the quote from that's why i cant ''credit'' that particular website.... but if anyone recognized his / her quote please do let me know so i can tag ur web here... thx..
only 3 simple steps to add a
FAVICON
.
Step 1:
Create a
logo / icon
which you want it beside your
URL
. Resize it to 16 X 16 pixels will be just perfect. Then Save it under *.png or *.jpg or *.ico
Step 2:
Upload your
logo / icon
on to the web. (ie. imageshack, photobucket)
Step 3:
Place the
link
into the quotes below.
(type for *ico is ''x-icon")
Paste the quotes in your HTML, just before ''< / head>''

For example:
[
click to enlarge the pix]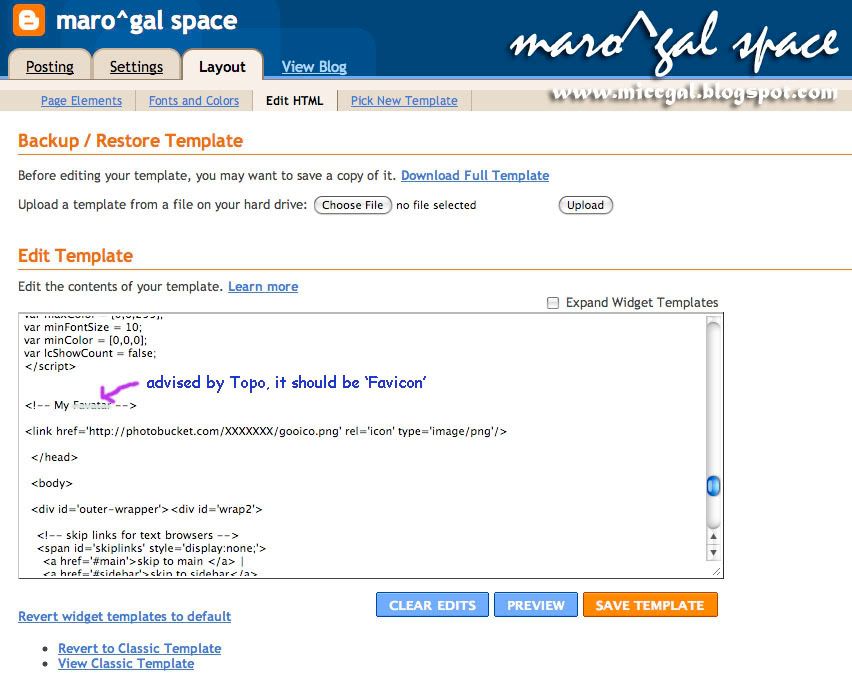 as i'm not an IT student, i dont really understand why is the quote like that, cos i just follow from that particular web... and this is the most easiest way of creating the icon beside your URL.
hope this may help.. cheers
*may post me any queries if you can't make it, i'll try to help :-)*
^^ thx
topo
, i really no idea bout it
-n-